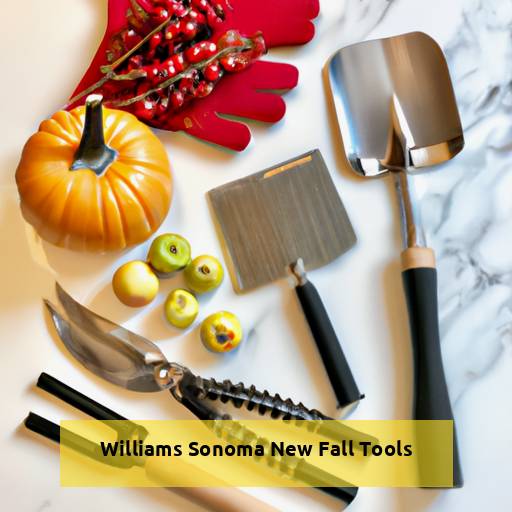 Welcome to the season of cozy sweaters, hot apple cider, and delicious homemade meals! With fall just around the corner, it's time to start thinking about updating our kitchen tools to make the most of this beautiful season. And there's no better place to find top-notch kitchen essentials than Williams Sonoma. Known for their quality products, Williams Sonoma has just released a new line of fall tools that will take your cooking and baking to a whole new level.
From pumpkin pie to hearty stews, these new tools are designed to help you create the most mouthwatering dishes of the season. Whether you're a seasoned chef or just starting out in the kitchen, these tools will make fall cooking a breeze. So, let's dive into some of the must-have items in Williams Sonoma's new fall collection.
Pumpkin Spice Latte
Nothing says fall quite like a steaming cup of pumpkin spice latte. With Williams Sonoma's new Milk Frother, you can recreate this popular seasonal drink at home with ease. Simply heat up your milk, add a splash of pumpkin spice syrup, and use the frother to create a rich and creamy foam. Top it off with a sprinkle of cinnamon and voila! You have your own homemade pumpkin spice latte that rivals any coffee shop version.
Butternut Squash Soup
When it comes to fall soups, butternut squash is a crowd favorite. With the help of Williams Sonoma's new Immersion Blender, you can effortlessly blend your soup into a velvety smooth texture. No more transferring hot liquids to a traditional blender and risking a messy disaster. The immersion blender allows you to blend directly in the pot, saving you time and minimizing cleanup. Serve your butternut squash soup with a dollop of crème fraîche and a sprinkle of toasted pumpkin seeds for a truly comforting and satisfying meal.
Apple Pie
No fall is complete without a homemade apple pie. Williams Sonoma's new Apple Slicer and Peeler will make preparing your apples a breeze. Simply attach the peeler to your countertop or table, place an apple on the prongs, and turn the handle. The peeler effortlessly removes the skin while the slicer creates thin, even slices. Mix your apple slices with sugar, cinnamon, and a squeeze of lemon juice, and fill your pie crust. Bake until golden brown and enjoy the heavenly aroma that fills your kitchen.
Roasted Fall Vegetables
Roasted vegetables are the perfect side dish for any fall meal. Williams Sonoma's new Roasting Pan with Rack is a game-changer when it comes to achieving perfectly roasted veggies. The rack elevates the vegetables, allowing for even heat distribution and preventing them from getting soggy. Toss your favorite fall vegetables – such as Brussels sprouts, sweet potatoes, and carrots – with olive oil, salt, and pepper, and spread them in a single layer on the rack. Roast until tender and slightly caramelized for a delicious and healthy accompaniment to any main course.
These are just a few examples of the amazing fall tools that Williams Sonoma has to offer. With their high-quality products and innovative designs, you'll find everything you need to elevate your fall cooking and baking game. So, embrace the flavors of autumn and get ready to create unforgettable meals with Williams Sonoma's new fall tools!