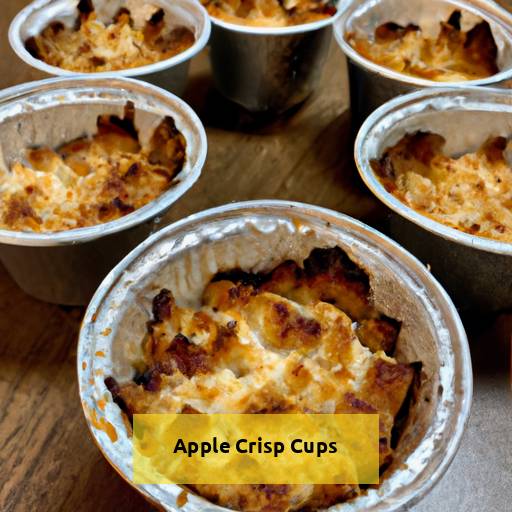 Are you craving a warm and delicious dessert that showcases the flavors of fall? Look no further than these delightful apple crisp cups! This twist on a classic apple crisp recipe takes individual servings to a whole new level. With a crunchy oat topping and a gooey apple filling, these cups are the perfect combination of sweet and tart. Whether you're looking for a dessert to impress your guests or simply want to treat yourself, these apple crisp cups are sure to hit the spot.
Ingredients:
– 4 medium-sized apples (any variety you prefer)
– 1 tablespoon lemon juice
– 1/2 cup granulated sugar
– 1 teaspoon ground cinnamon
– 1/4 teaspoon ground nutmeg
– 1/4 teaspoon salt
– 1 cup old-fashioned oats
– 1/2 cup all-purpose flour
– 1/2 cup packed brown sugar
– 1/2 cup unsalted butter, melted
– Vanilla ice cream or whipped cream (optional, for serving)
Instructions:
1. Preheat your oven to 375°F (190°C). Grease a muffin tin or line it with cupcake liners.
2. Peel, core, and chop the apples into small pieces. In a large bowl, toss the apples with lemon juice to prevent browning.
3. In a separate bowl, mix together the granulated sugar, cinnamon, nutmeg, and salt. Sprinkle this mixture over the apples and toss until well coated.
4. In another bowl, combine the oats, flour, brown sugar, and melted butter. Mix until the ingredients are well combined and the mixture resembles coarse crumbs.
5. Spoon a tablespoon of the oat mixture into each muffin cup, pressing it down firmly. Then, spoon a heaping tablespoon of the apple mixture on top of the oats, gently pressing it down.
6. Top each cup with another tablespoon of the oat mixture, pressing it down lightly to create a crumbly topping.
7. Bake the apple crisp cups for about 20-25 minutes, or until the tops are golden brown and the apples are tender.
8. Allow the cups to cool for a few minutes before carefully removing them from the muffin tin. Serve warm with a scoop of vanilla ice cream or a dollop of whipped cream, if desired.
These apple crisp cups are perfect for any occasion, from cozy family dinners to holiday gatherings. The individual servings make them easy to serve and enjoy, and the combination of sweet, tart apples and crunchy oat topping is simply irresistible. So why not give this recipe a try and treat yourself to a taste of fall in every bite?